These are quotes that Donkey makes in the Shrek movies.
Shrek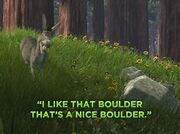 Please don't turn me in. I'll never be stubborn again. I can change! Please! Give me another chance!
Hey, I can fly!
Yeah. But I know that half is safe!
Dragon!
Hi, Princess!
Princess, where are you?
It's very spooky in here. I ain't playing no games.
But you only look like this at night. Shrek's ugly 24-7.
In the morning im making Waffles!
Shrek 2
♪ Two can be as bad as one.. ♪
Shrek! Fiona! Aren't you two a sight for sore eyes!
Yeah, and feeding the fish!
You do now. I call that one Shrek amd the other Fiona.
That Shrek is a rascally devil. Get your...
Maybe I'll see y'all Sunday for a barbecue of something.
Royal ball? Can I come?
That's me: the noble steed.
Community content is available under
CC-BY-SA
unless otherwise noted.