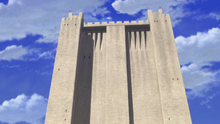 The Duloc Castle, also known as Castle Duloc, is the official residence of the Nobility of Duloc and a towering structure located in the city's center. The castle is inspired by the rectangular keep of the French castle, Château de Loches. 
Exterior

The castle is disproportionately giant compared to everything else in the city of Duloc. It is a rectangular shaped building with four smaller towers on top of each corner, and it has a few windows. There is also a court yard where the tournament for the chance to rescue Fiona was held.
Interior
There are many rooms inside the castle. Rooms seem to have white colored walls and floors with blue colored curtains and banners. Known Rooms include,
Bed chamber of Lord Farquaad.
Dining hall
Fiona's chambers, where she was getting ready for her wedding.
Great Hall, where Shrek and the gang told scary stories in Scared Shrekless.
Billiard Room, only seen in concept art.
Gallery