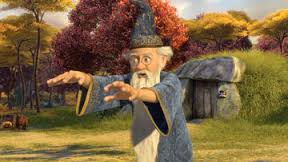 This house is where the wizard Merlin has lived ever since he had a nervous breakdown at Worcestershire Academy.
The house makes its only appearance in Shrek the Third.
Travel Guide
Geography
It is located in an isolated forest in the Shrek Universe. It's built into rock formations with a wooden door.
Its candlebox shows a hologram of Merlin to visitors and plays music.
Interior
We don't see the interior, suggesting that Merlin wanted to keep the inside to himself.
Inhabitants
Visitors