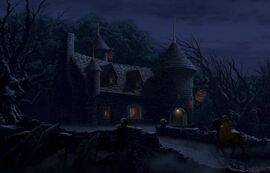 The Poison Apple is a tavern where villains gather to drink alcoholic beverages. It is a recurring location in the Shrek universe.
After the villains become good at the end of "Shrek the Third", the whole place changes from a bar into a restaurant similar to that of a standard family eatery.
The sign for the Poison Apple is an apple, with the tavern name written on it. Its name comes from the fairy tale Snow White.
Travel Guide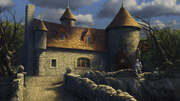 Geography
The Poison Apple is located at the end of the Pinocchio River in Far Far Away.
Unhappy Hour
Fuzzy navels and beer.
Unhappy hour is served from 5:00 PM - 7:00 PM.
Bright Side
If you are in need of a drink with some villains or looking for a villain to hire, the Poison Apple is the place to come.
Menu
The establishment sells a wide variety of terrifying foods and strong alcoholic beverages.
Food:
Spicy Dragon Wings
Pickled Eyeballs
Crunchy Children Fingers
Beverages:
Poison Apple Cider
Death's Brew (aged to infection)
Viper's Venom (distilled in despair)
Arsenic Ale (est. 1452 B.C.)
Arsenic Lice
Extra Poison:
Specials:
Who is Who
Regulars
Employees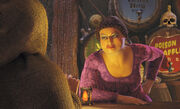 Community content is available under
CC-BY-SA
unless otherwise noted.