Quasimodo is a character only appearing in the video game Shrek Super Slam. His Super Slam has him ringing bells to stun his opponents.
Quasimodo is from the Gothic story The Hunchback of Notre Dame.
Background
Quasimodo lives in the Notre Dame and just moved over to Shrek's Swamp. At night he plays his Bell Drums, which causes Shrek and Fiona to wake up and get angry. So he went to Quasimodo and tells him that it's 4 in the morning. But Quasimodo says he wants to rock, and Shrek only wants to keep it quiet as he hasn't had sleep since he moved next to them. Quasimodo says that they need a beauty sleep because they are ugly, which Fiona hears and they eventually go into a battle with each other.
Character
Quasimodo loves to play rock music on his bells all day long, and has no manners. He bears little to no resemblance to the original hunchback. However, him potentially having bad hearing from the bells seems to take inspiration from Quasi being deaf in the original story.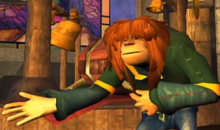 Appearance
Quasimodo has long orange hair that covers his eyes, he wears a green shirt with yellow lines and has a blue sweater beneath it. with ropes around it acting as a belt and blue jeans and brown shoes. And of course he has a hump in his back. Overall he looks nothing like the other Quasimodo's. However, his look may have been derived from the Universal Monsters rendition of Quasimodo (portrayed by classic actor Lon Chaney).
Trivia
Like Luna, he has not made any appearances in the films and has no potential parallels to any existing characters prior to Super Slam.
So far, Quasimodo is the only character in the entire series (besides the Headless Horseman) to not originate from a fairy tale. Although, The Hunchback of Notre Dame is commonly misconceived as a fairy tale.
Community content is available under
CC-BY-SA
unless otherwise noted.