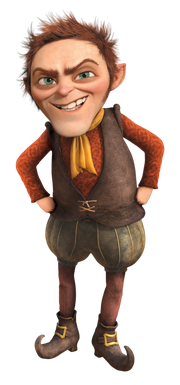 Quotes that Rumpelstiltskin made in Shrek Forever After
Beginning
[As Rumpelstiltskin angrily scrunches up a page from a library book about Shrek]
Pinocchio: Uh, sir? You're gonna have to pay for that.
Rumpelstiltskin: Uh... M-m-maybe we can make a deal for it, little boy?
Pinocchio: Oh, I'm not a real boy.
Rumpelstiltskin: [looking devious] Do you wanna be?
[Cut to Pinocchio kicking Rumpel out]
Pinocchio: NOBODY NEEDS YOUR DEALS ANYMORE, RUMPLE STINKY-PANTS!
Shrek and Rumple
Rumpelstiltskin: Oh, I don't know. Any day. A day from your past. Like the day you had the flu. The day you lost a pet. The day some meddling oaf comes in STICKING THEIR NOSE WHERE IT DOESN'T BELONG, DESTROYING YOUR BUSINESS, AND RUINING YOUR LIFE! Just for an example.
Community content is available under
CC-BY-SA
unless otherwise noted.