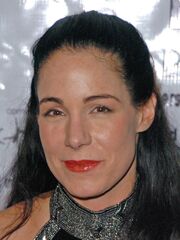 Victoria "Vicky" Jenson is a film director best known for co-directing the first Shrek alongside Andrew Adamson.
Prior to Shrek
Before working on Shrek, she was a storyboard artist/background artist for several animated and live-action productions including Ferngully: The Last Rainforest and John Hughes' She's Having a Baby. Eventually she joined DreamWorks animation where she multi-tasked several positions for Road to El Dorado and Chicken Run.
Shrek
Vicky Jenson was hired to co-direct Shrek as a replacement for Kelly Asbury, whom had left production to work on another DreamWorks film, Spirit: Stallion of the Cimarron. Jefferey Katzenberg personally promoted her due to Jenson's hard work as a story artist trying to piece the film together to the best of her abilities. Her and Andrew Adamson worked in halves when working on the film, separately answering questions animators and other crew members had when working on certain sequences. Shrek was eventually released on May 18, 2001 and became a smash success, ranking in $484.4 million at the box office.
Beyond Shrek
After the film's success, she would receive the first annual Kiera Chaplin Limelight award given at the Women's Image Network Awards. The film also helped make her one of the most inspiring Hollywood female directors, given how she started one of the most successful film franchises of all time. Vicky Jenson later directed another animated film at DreamWorks, which was the infamous Shark Tale (originally titled, Shark Slayer). While it was a box office success, the reaction from both critics and audiences were mixed to negative, with the film being highly regarded as the worst piece of DreamWorks media. Around this time, she also made a live-action short film titled The Family Tree, which won numerous independent film awards. In 2009, she made her live-action feature film debut with the independent romantic comedy Post Grad, which met with horrendous reviews. Vicky Jenson would then take a brief hiatus from filmmaking and settled with directing a stage production of the play Time Still Stands, which received highly positive reviews from theater critics. As of 2017, she has been working on a new animated film for Skydance and Ilion Animation about a teenager using magical powers to defend her family from the forces of light and darkness which threaten to divide her kingdom.